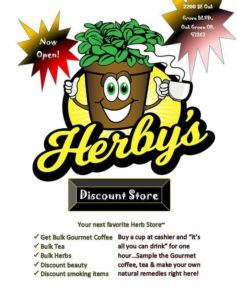 It's all you can drink at Herby's
Come join us at our new store at the end of the Trolley Trail.
Our historical location is filled with fun and exciting shops to enjoy but your first stop should be with us!  Buy a cup and it's all you can drink at Herby's for one hour, you get to sample the coffee's the tea's and yes even make your own natural remedy while learning right there how to do so, with literature and internet access.  We have some of the comfortable chairs to relax, or go shop the shelves in the store.  Where you can buy Bulk Gourmet Coffee, Teas and Herbs.  There is also beauty items, clothes, vape supply, glass smoking accessories, silicone, E-nails and more.
We always recommend to check with doctor with any medical conditions, allergies and more. We allow you access to information for you to decide what is right for you and only suggest a direction to look.
Address:  2200 SE Oak Grove Blvd.  Oak Grove, Oregon 97267
http://www.herbysdiscount.com/