Kiwan Cafe Rio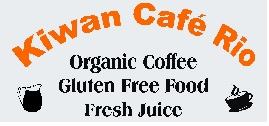 Kiwan Cafe Rio located at 2144 SE Oak Grove Blvd in The Station @ Oak Grove is the only celiac friendly café in Oak Grove.
Our menu consists of All organic and gluten-free.
A few years ago we took over a tiny little café and decided to continue the mission of keeping everything 100% Gluten-Free. We have come a long way in this time, but our commitment to staying Gluten-Free has not changed. Eight months ago we moved in to our new location here in Oak Grove and we love it!
While we loved our previous location, we now have more room and have fell in love with the neighborhood. Everyone has been so welcoming and we truly appreciate it. For those who are unfamiliar with us, we are located along the Trolley Trail in Historic Downtown.
---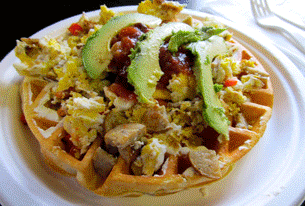 For breakfast lovers we have banana honey nut waffles, scrambled eggs with veggies, omelets and the famous waffle ranchero that is so savory you will be begging for more. We also have French toast and a variety of other waffle options.
For the coffee fans we proudly serve Organic coffee from Longbottom. We love to support fellow local businesses.
For the desert addicts we serve homemade ice cream made in our store. We have 6 flavors: Banana, Coconut (Vegan), Blackberry, Vanilla, Chocolate and Strawberry. We also sell gluten free muffins.
For sandwich fans, we have the option of grilled cheese, turkey or ham (filled with veggies). All grilled to perfection. Our bread is also local from New Cascadia Bakery.
For Vegans, we can make vegan waffles at request and we have vegan coconut ice cream.
We also serve freshly squeezed juice, smoothies, tea and lemonade.
We also have FREE Wifi and FREE smiles. Best of all we are in your neighborhood. J
~ Kiwan Café Rio